Dr. Anju G. Mamtani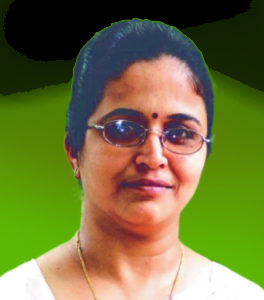 Name : Dr. Anju G. Mamtani
Degree : B. A. M. S., ND (Diploma in Naturopathy), Diploma in Yoga.
Director : G Kumar Arogyadham Ayurvedic Panchkarma Hospital & Research Institute,
238, Nara Road, Jaripatka, Nagpur-440014
Ayurvedic Beauty Care Unit, G Kumar
Arogyadham, Nagpur.
PH. No.: +91-712-2645600, 2646600, 2647600.
E-mail : gkumararogyadham@yahoo.co.in, drmamtani@gmail.com
Secretary : Arogyadham Health Care Society
Books Published :
"Yogasana-Swastha Jivan ka Shilpkar" (Awarded by Govt. of India)
"Yogasana-Nirogi Jivanacha Shilpakar" (Marathi)
"Panchkarma–Swasthya ki Kunji"
Editor : 'Swasthya Vatika' – Quarterly Health Magazine (Hindi).
Awards :
Women of Substance Award 2015
"Sahityakar Samman" at Alwar (Rajsthan) 2013
"Vidarbha Bhushan Award 2012″
"Sindhiyat Ja Sitara 2012"
The Siddha Seva award by Swami Hardas Foundation, Pune (2011)
"Himalaya Aur Hindustan Award" by Creative and Multimedia Group, Dehradun (Uttaranchal) – (2009).
"Netaji Subhash Chandra Bose Award" byJagruthi Kiran Foundation, Nagpur – (2004)
"Ayushaman' National Award" by Ayushaman Ayurvedic Swasthya Patrika, Bhopal – (2004)
"Savitribai Fule Award" by Maharashtra Dalit Sahitya Academy, Bhusawal – (2002)
Specialization : Beauty care, Skin & Hair problems, Gynaecological Disorders.
Activities :
Contributing articles about health consciousness in various newspapers / journals.
Health related talks on All India Radio & Doordarshan.
Conducting Ayurvedic, Panchkarma Camps at various places.
Participated in many national seminars / conducted lectures.