Dr. Gurmukh M. Mamtani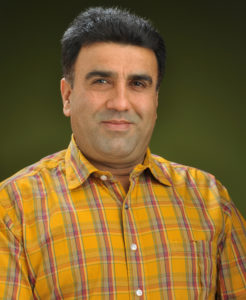 Name : Dr. Gurmukh M. Mamtani
Date of birth : 3 September 1965
Degree : M.D. (Ayurveda), D.M.L.T. (Gold Medalist)
Director : G Kumar Arogyadham
Ayurvedic Panchkarma Hospital & Research Institute,
238, Nara Road, Jaripatka, Nagpur-440014
PH. No. : +91-712-2645600, 2646600, 2647600.
E-mail : gkumararogyadham@yahoo.co.in, drmamtani@gmail.com
President : Arogyadham Health Care Society
Books Published :
"Yogasana-Swastha Jivan ka Shilpakar" (Awarded by Govt. of India)
"Yogasana-Nirogi Jivanacha Shilpakar" (Marathi)
"Panchkarma–Swasthya ki Kunji"
"Yaun – Patha Pradarshika".
Chief Editor : 'Swasthya Vatika'- Quarterly Health Magazine (Hindi).
Research Papers Presented : Paralysis, Psoriasis, Spine problems, Leucoderma, Diabetes, Piles and Fissure.
Awards :
Dr. G.M.Mamtani "Vaidykiya Chikitsa" award (13/12/2015) by Sunrise peace mission
Sant Gadge Baba rashtriya Samaj sewak award (28/2/2016) by Shabda Kranti Prakashan
Ayush Award-2014 & Dr.Hargobind Khurana International Award-2014
"Vidarbha Bhushan Award 2012″
"Sindhiyat Ja Sitara 2012"
Limca Book Record 2012
The Sampadak Shiromani award for Swasthya Vatika by Shrinath Dwara, Rajasthan ( 2011)
The Siddha Seva Award by Swami Hardas Foundation, Pune (2011)
The Appreciation Award by Sunrise Pease Mission, Nagpur (2010)
Loser Banega Winner – Award by Talwalkar Gym (2010)
Ayurved Prabhakar Manad Upadhi by Bhartiya Ayurveda Vikas and Vishwa Vigyan Shodh Sanstha Jaunpur (U.P.) – (2010)
Ayurveda Chikitsa Bhushan Award by Creative and Multimedia Group, Dehradun (Uttaranchal) – (2009).
Himalaya Aur Hindustan Award by Creative and Multimedia Group, Dehradun (Uttaranchal) – (2008)
Dhanvantri Award by Baidyanath Company, Nagpur (2005)
'Ayushyaman' National Award by Ayushyaman Ayurvedic Swasthya Patrika, Bhopal – (2004)
'Amrut Sanjivani' Award by Magnum Foundation Nagpur – (2002)
"Gramin Ayurveda Deep" Award by Sant Lahanuji Maharaj Sansthan, Katol, Nagpur – (2002)
" Dr. Babasaheb Ambedkar Award" by Maharashtra Dalit Sahitya Academy, Bhusawal – (2002)
"Ayurveda Sarthi Award" by Sindhudi Youth Wing, Nagpur – (2001)
"Lions Club Award" by Lions Club of Nagpur Ayurveda, Nagpur – (1998-99)
"Vidarbha Ayurveda Veer" by Lokmanya Vidarbh Veer Samiti, Nagpur – (1997)
Other Activities :
Contributing articles about health consciousness in various newspapers / journals.
Health related talks on All India Radio & Doordarshan.
Conducting Ayurvedic, Panchkarma Camps at various places.
Member of many social, medical & religious organizations.
Participated in many national seminars / conducted lectures.